Dedicated to enhancing and increasing the cultural awareness of classical music
The Fredericksburg Symphony Orchestra is dedicated to enhancing and increasing the cultural awareness of classical music in the central-Virginia community by presenting high caliber performances by amateur and professional musicians, and by encouraging and educating young performing artists.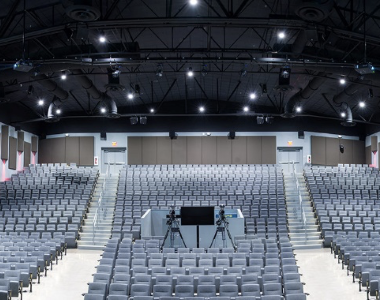 From its new home at beautiful Lifepoint Auditorium in Central Park, the non-profit FSO will perform four concerts during its 2022-2023 season: October Masterworks, Holiday Pops, and two Spring concerts. Lifepoint Auditorium is a 1,000-seat hall equipped with a large foyer, ample parking, and concert stage that is unmatched in the region.
Fredericksburg Symphony Orchestra Personnel
Robyn Bauer*
Concertmaster
Kelsey Payne
Assoc. Concertmaster
Dina Felts
Rachel Pitts
Charles Stout
Anna Sammel
Peter Wong
Kathy Buchanan
Nathan Wisniewski
Principal
John Rine Zabanal
Associate
Chris Dixon
Cindy Ross
Linda Shapanka
Carly Sokol
Michael Sienkowski
Michele Kucic
George Tomoiaga
Tia Iverson
Rob Leong
Becca Longhenry
Jilleen Giroux Read
Ben Pereyra
Cynthia Dement
Monica Martin
Katherine Colburn*
Principal
Christopher Chorney
Associate
Christine Abeel
Anna Miller
Elijah Coe
Debra Anker
Christine Hartigan
Lucas Miller
Hannah Gould
Alex Rodriguez
Bryan Haderlie
Michael Dean
Zachary Smith
Mike Huffman
Damien Bollino
Co-Principal
Rainier Homoroc
Kaitlin Gimm
David Vita
Eddie Steenstra
Principal
The health and safety of our orchestra members, staff, and community is a priority for the FSO.
All orchestra members are required to be fully vaccinated against Covid-19.