Dedicated to enhancing and increasing the cultural awareness of classical music
The Fredericksburg Symphony Orchestra is dedicated to enhancing and increasing the cultural awareness of classical music in the central-Virginia community by presenting high caliber performances by amateur and professional musicians, and by encouraging and educating young performing artists.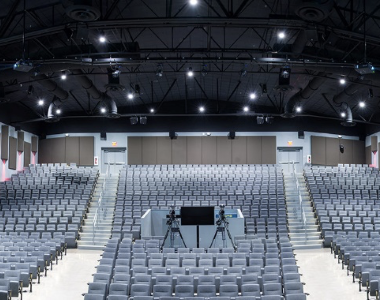 From its new home at beautiful Lifepoint Auditorium in Central Park, the non-profit FSO will perform four concerts during its Inaugural 2021-22 season: October Masterworks, Holiday Pops, and two Spring concerts. Lifepoint Auditorium is a 1,000-seat hall equipped with a large foyer, ample parking, and concert stage that is unmatched in the region.Founded by longtime Fredericksburg resident (and former conductor of the UMW Philharmonic Orchestra) Maestro Kevin Bartram, the 65-piece FSO is comprised of many of the most talented musicians in the region, both amateur and professional. The group also boasts many of the regions' finest music teachers and young performers.
Fredericksburg Symphony Orchestra Personnel
Robyn Bauer*
The Sheldon Lampert Concertmaster Chair
Kelsey Payne
Dina Felts
Charles Stout
Anna Sammel
Zachary Payne
Rob Leong
Peter Wong
Randy Donathan
Rachel Pitts
John Rine Zabanal*
Chris Dixon
Cindy Ross
Michele Kucic
Tia Hederer Iverson
William Wassum
Michael Sienkowski
Carly Sokol
Kathy Buchanan
Ron Barricklow*
Kaylee Payne
Jilleen Giroux Read
Kelly Barricklow
Cynthia Dement
Alli Barricklow
Katherine Roach
Christine Abeel*
The Thom and Tricia Smelter Principal Cello Chair
Luke Payne
Debra Anker
Christine Hartigan
Elijah Coe
Hannah Gould
Jacob Dean
Cameron Toler
Ayca Kartari*
Alex Rodriguez
Bryan Haderlie
Marla Snyder*
Cheryl Seamster
Maxxx Dennis*
Laurel Siberts*
Daniel Kennett*
The Mary Wynn Richmond McDaniel Principal Clarinet Chair
Pat Neidich*
David Mersiovsky
Mike Huffman
Damien Bollino*
Ryan Scott
Matt Davis
Liz Deavers
Nora McIntire*
Rainier Homoroc
Kaitlin Gimm
David Vita
Walter Wynn*
Karen Donoghue
Mitchell Arthur*
Douglas Haas
*Principal


The health and safety of our orchestra members, staff, and community is a priority for the FSO.
All orchestra members are required to be fully vaccinated against Covid-19.