Maestro Kevin Bartram has done it all in the field of music: celebrated conductor of both orchestras and bands, author, researcher, and guest speaker. With over 30 years' experience directing groups from high school to college and professional ranks, he has a track record of producing extraordinary results.
Along with several community supporters, Bartram founded the Fredericksburg Symphony in the Fall of 2021. A risky endeavor in the midst of a pandemic, the group quickly attracted the area's top musicians, and its inaugural season exceeded all expectations. By the second year, the FSO was selling out its 1,000 seat auditorium on a regular basis.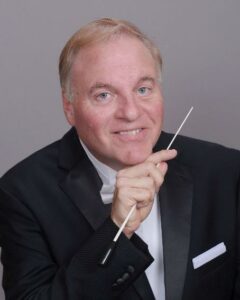 Early in his career, Bartram taught public schools in Maryland. His high school orchestras were among the finest in the nation, earning a Grammy Signature Award in 2001 for Top 100 Program in the United States and an Exemplary Music Program Award from the Maryland Music Educators Association. Consistently earning Superior Ratings at Festivals, his full symphony orchestra won seven Gold Medals in eight years performing Grade VI literature (professional level). There, he also founded and directed the Maryland Wind Symphony, which performed for the state MMEA Conference.
At the University of Mary Washington (2002-2020), he conducted the UMW Philharmonic Orchestra and taught courses in music education. In 2004, he created the Philharmonic Celebrity Series, which annually brought in world-class artists to perform with the college-community orchestra here in Fredericksburg. Artists included Itzhak Perlman, Renee Fleming, Sir James Galway, Joshua Bell, Kenny Rogers, Michael Feinstein, Tony Bennett, the Canadian Brass, Judy Collins, Nadya Salerno-Sonnenberg, Jose' Carreras, Marvin Hamlisch, Kristen Chenoweth, and Paul Anka. He also added guest narrators including LeVar Burton and Henry Winkler.
In 2010, Bartram was honored as a semi-finalist in the American Prize for orchestral conducting, and the UMW Philharmonic was also honored in orchestral performance. In 2011, he produced and directed "A Fiddler's Holiday" with guest artist Jay Ungar and the Family Band, which became a national PBS Holiday pledge show. In 2006, he took the Philharmonic on the first of its five European tours, and in 2018, the group was the featured performer at the College Orchestra Directors Association's National Conference in Los Angeles.
Maestro Bartram became President of the College Orchestra Directors Association in 2017, after having served as the organization's first National Development Director, Vice-President, and President-elect. He has also served the Fredericksburg community in several capacities. In 2010, he joined the Arts Commission, eventually becoming Chairman, where he founded the Via Colori arts festival, the Sounds of Summer concert series (as it was later to be called), the public sculpture project, and led the effort to establish an Arts and Cultural District in Fredericksburg. He also served on the EDA Advisory Committee and as a member of the Rappahannock Rotary.
As a writer, Bartram has published several national articles on teaching and conducting, and in 2022 published a book entitled "Great Teachers: Exploring Excellence in Education." Based on 15 years' of observation and research, the book profiles and analyzes the technique of America's most iconic teachers across a wide spectrum of disciplines. The book was published by New Forums Press and is a professional development book for K-12 educators as well as college education students. (It can be purchased online at: www.kevinpbartram.com).
Bartram has guest conducted orchestras and bands throughout the country and abroad. Highlights include a professional brass band in Argentina, the Faure' Requiem at Le Madeleine Cathedral in Paris, and led performances with countless school honor groups.
After 19 years in higher education, Bartram returned to his roots as a K-12 teacher…in the Fredericksburg City Schools. He joined the staff at James Monroe High School and Walker-Grant Middle School as orchestra director in the Fall of 2021.
He has a Bachelor of Music Education from Northwestern University, a Masters of Music in Orchestral Conducting from the University of Missouri-Columbia, and a Doctor of Music Education from Shenandoah Conservatory. He and his wife Connie (an elementary school music teacher) live in Spotsylvania with their two boys, Nicholas, and Willie.