Bridging a Great Community with Great Music
Vision Statement
We envision a community where live music connects people from all walks of life to inspire a more vibrant and creative region.
Mission Statement
Believing that music has the power to inspire, the Fredericksburg Symphony will fulfill this mission by enriching the community with live music. The Symphony brings performances, educational programs, and community engagement initiatives for audiences to experience music in a way that is relevant and meaningful to their own lives. Through music, the Fredericksburg Symphony aspires to create shared experiences and connections that improve the quality of life in Fredericksburg and throughout the region.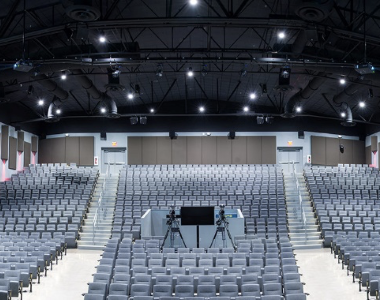 Founded by longtime Fredericksburg resident Dr. Kevin Bartram in the Fall of 2021, the 70-piece FSO is comprised of the most talented string, wind, and percussionists in the region. With its mission to reach young people, the group also boasts many of the regions' finest music teachers and young performers.
Many FSO musicians also perform with other orchestras, including the Richmond Philharmonic, the Old Bridge Chamber Orchestra, the Virginia Symphony, the U.S. Air Force Band, the U.S. Navy Band, and others.
The Fredericksburg Symphony Orchestra is dedicated to enhancing and increasing the cultural awareness of classical music in the central-Virginia community by presenting high caliber performances by amateur and professional musicians, and by encouraging and educating young performing artists.
From its new home at beautiful Lifepoint Auditorium in Central Park, the non-profit FSO will perform four concerts during its Inaugural 2021-22 season: October Masterworks, Holiday Pops, and two Spring concerts. Lifepoint Auditorium is a 1,000-seat hall equipped with a large foyer, ample parking, and concert stage that is unmatched in the region.
FSO's Education Initiative
The FSO is committed to advancing music education in our schools and have developed a partnership with local school systems in Spotsylvania, Stafford, Prince William, and the city of Fredericksburg.
In 2021-22, we:
Provided hundreds of FREE concert tickets to middle and high school students and teachers
Hosted a school lecture by Abigail Rockwell on her grandfather's artwork
Hosted several school concerts and rehearsals led by FSO musicians
In 2022-23, we will:
Host rehearsals for middle and high school students led by composer Brian Balmages
Host school workshops led by FSO musicians
Provide scores of FREE concert tickets to public and private school students and teachers
Host a pre-concert Instrument Petting Zoo for children
Offer the opportunity for a child to guest conduct the Symphony!
"I want to commend you for organizing the opportunity for our students.  It was obvious that you had prepared them for the visit!  As I looked around the auditorium, the students were captivated by Ms. Rockwell and the projection of her grandfather's artwork gave them something to reference.  It was a perfect learning experience for our students."
Thank you,
Sandra P. Gillenwater,  M Ed
Fredericksburg City Public Schools
Communication and Community Outreach